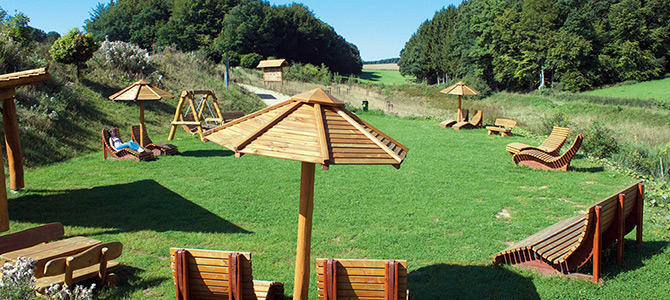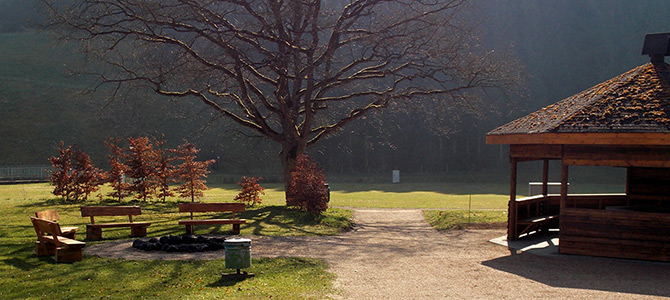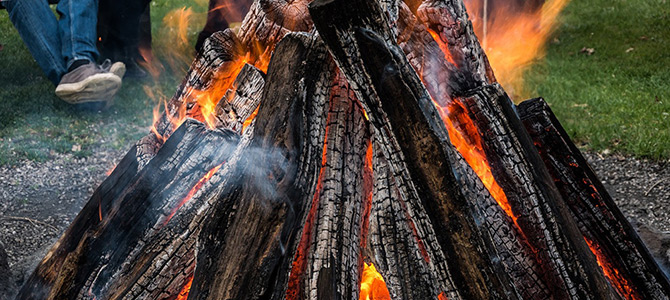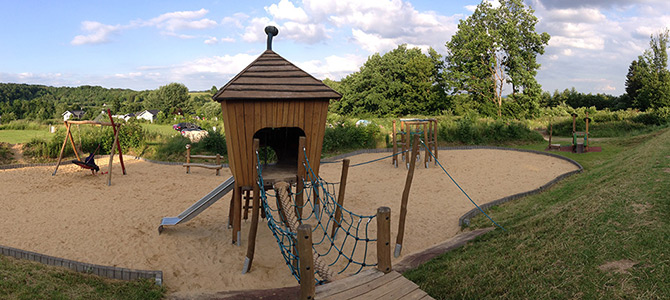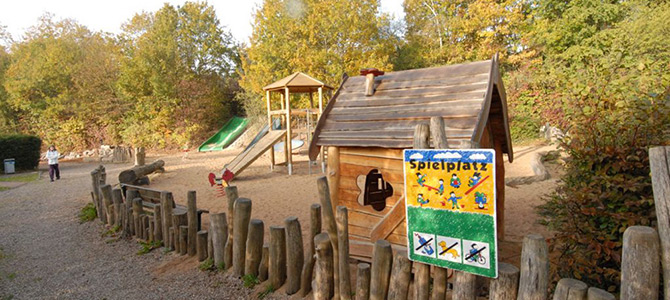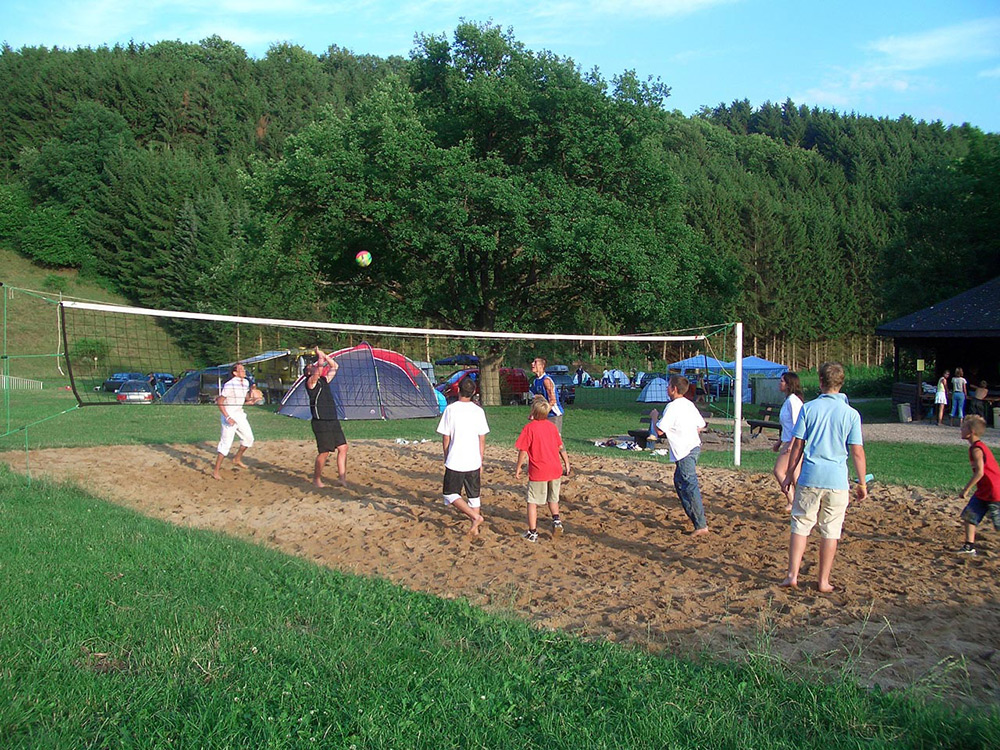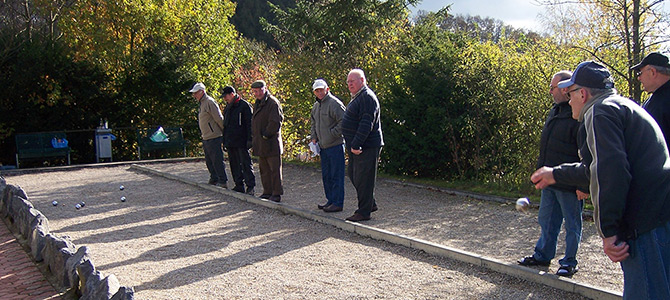 Chill-Area
Time for relaxation! Enjoy the peace and quiet.
Whether old or young – those seeking peace and quiet will find a wonderful place of peace and relaxation in our Chill Area, away from tents and caravans. Equipped with comfortable, solid wooden loungers, swings and benches, the Chill Area conveys a lounge-like atmosphere and invites you to relax.
Be it to enjoy a pleasant book, to let your gaze wander with relaxed music in your ear, or simply to let the warm summer evening fade away.
Geißbockstadl
The Geißbockstadl leisure club is a conference and recreation room equipped with cable TV, a table football and tables and chairs. Here you can stay for a longer time even in bad weather and make new friends. Numerous events take place here as part of the leisure activities and the mini club.
Barbecue huts
The two grill huts of the Eifel-Camp invite you to cozy evenings (subject to a fee, see price list).
The open barbecue hut is located next to the campfire site at the edge of the camping ground, in the immediate vicinity of the creek meadow and is the perfect location for social barbecue evenings for larger groups.
The Finnish grill hut on the Almwiese can be used all year round due to its closed construction. It offers space for a maximum of 20 people in a comfortable atmosphere. It is particularly cosy to sit in the warm hut around the barbecue when there is ice and snow and spend social evenings with friends or family.
Due to the high demand, it is recommended to reserve the barbecue huts in advance. Beer tent sets consisting of 2 benches and 1 table can be additionally booked if required.
Campfire site
Security is a top priority at the Eifel-Camp. For this reason, open fires are not permitted on the entire grounds of the Eifel-Camp, even in fire bowls. But you don't have to abstain from a cosy campfire: there is a designated campfire site next to the brook meadow. This cannot be reserved and is open to all camping guests.
Skater-Park
In the skater park big and small skaters can show their skills. Half-Pipe and Jump-Ramp invite to great jumps and tricks. Of course, inline skaters and BMX artists also get a taste of the action here.
Playgrounds
There are three different playgrounds to choose from at the Eifel-Camp:
On the centrally located playground next to the sanitary building there are numerous devices for climbing and gymnastics, a sandpit and a large railing slide – it won't get boring!
A real highlight is the nature playground near the Indian meadow right next to the nature football arena with its exciting climbing equipment, nest swing, and a separate small children's tower.
For the slightly older children, the play and sports area on the Bachwiese is a real Eldorado. In addition to the skater park with half pipe and jump ramp, a trampoline, climbing rocks and the asphalted multisport area with hockey goals and basketball court offer plenty of opportunities to let off some steam.
Sports facilities
The nature soccer arena above the Indian meadow offers small and large kickers the opportunity to have a good time. If that's not enough, you'll find a "real" football pitch nearby. Usually, enough players for a game are found quickly.
Another popular playing field is the beach volleyball court next to the Bachwiese. The fine sand creates a real beach feeling and invites players and spectators to exciting games.
Big and small basketball players can go basketball on the basketball court next door and table tennis invite to exciting encounters.
Not far from the Eifel-Camp, about 2 km away, there is a tennis court. Eifel-Camp guests can play there free of charge. For a deposit, you can get the key at the reception.
If you prefer a more comfortable atmosphere, you can let the balls roll on the specially designed Boccia/Boule track next to the restaurant terrace.
We are looking forward to your visit!