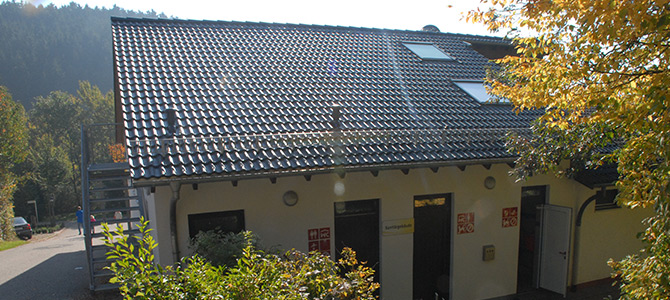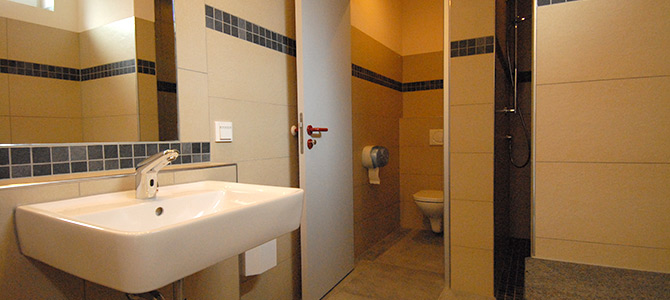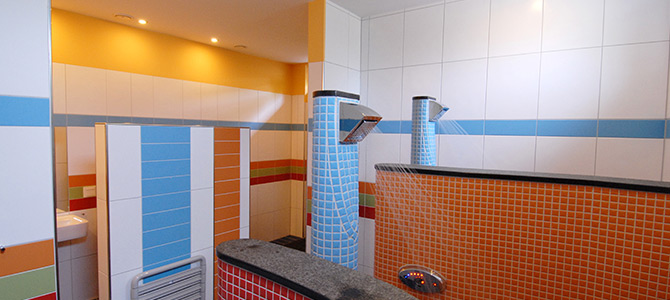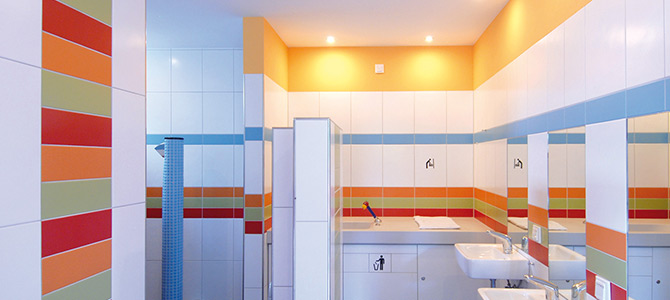 Sanitary facilities
The Eifel-Camp am Freilinger See is known for its modern and comfortable sanitary facilities. On the camp site, there are two sanitary buildings and two separate toilet houses as well as a cooking and a dishwashing house.
Sanitary building 3 and the toilet houses at the creek meadow and summer meadow are only open from April to October and during the NRW vacations.
Sanitary buildings
The two sanitary buildings each have a unisex area and a conventional part with separate areas for men and women.The unisex areas will delight you with their equipment and comfort! All toilets are spacious, bricked from bottom to top and have modern tiles. Each individual toilet has an inflow and outflow air system, which eliminates odors and noise. All cabins, so-called sanitary units, are either equipped with shower and washbasin or with shower, washbasin and separate toilet.
A rare luxury for the camping industry, which can be used in the Eifel-Camp without extra charge: all showers and all hot and cold water outlets are included! Due to the completely enclosed, spacious units, families, and couples can use the units together, just like in their own bathroom at home. Underfloor heating provides pleasant warmth even in winter.
Children and baby area
In sanitary building 1, there is also a unique children's and baby area. How often have parents been annoyed that they can't help their toddlers shower without getting wet themselves? An innovative children's bathroom has been developed for the Eifel-Camp. With centrally located shower columns of different heights, children of different ages can shower themselves or be supported by an adult when taking a shower without dad or mum getting wet!
The washbasins are also installed at three different heights, and in the children's toilet, there is a toilet at a low height as well as a urinal for the little boys. A changing station with a practical baby bathtub completes the facilities.
Single sanitary cabins
Those who would like to have their own bathroom for the entire period of their stay in the Eifel-Camp can book one of the exclusive single sanitary cabins in sanitary building 1. The practical private sanitary cabins are each equipped with a washbasin, shower, and toilet. For a stay of more than 14 days, we will arrange a weekly cleanup appointment, during which the private sanitary facilities will be cleaned for you.
Other facilities in the sanitary building:
Bathroom for the disabled, sanitary building 1 only, key at reception

Dog shower, sanitary building 1 only, key at reception

Drying room with shoe rack, sanitary building 1 only, key at reception

Washrooms with washing machine and dryer, only sanitary building 1 (chargeable), keys at reception

dishwasher rooms

Chemical toilet emptying
Cooking and dishwashing house
The cooking and dishwashing house with modern induction plates (subject to a charge) is located in the upper area of the site in the immediate vicinity of the tent meadows and camping cabins. Corresponding induction adapter plates can be borrowed in the reception against a deposit.
Three sinks are available in the dishwashing area (only in the summer months). During the summer months, there is also an additional laundry room with washing machine and dryer. You can get the key at the reception.
We are looking forward to your visit!